Pilot projects are getting under way to lessen the impact of HIV
among young women and adolescent girls by helping them become
D
etermined,
R
esilient,
E
mpowered,
A
IDS-Free,
M
entored, and
S
afe under what's being called the DREAMS initiative.  The female 15-24 age group is particularly vulnerable to HIV in sub-Saharan Africa, accounting for more than seven out of ten new infections.  In South Africa, more than 120,000 women in this age group are thought to become HIV positive every year.
[1]
  The reasons for this are complex and poorly understood; they relate to economic inequalities, prevailing social norms and high levels of gender based violence that reduce the ability of young women to negotiate safe sex with their (often older) male partners.
The DREAMS initiative is a public private partnership involving the President's Emergency Plan for AIDS Relief (PEPFAR) as lead partner, with additional financial support from the Bill & Melinda Gates Foundation, Johnson & Johnson, Girl Effect, Gilead Sciences, and ViiV Healthcare.  Together, the group has committed $385 million that will deliver a core package of evidence-based interventions intended to break the cycles of HIV transmission that involve younger women.  An additional $85 million has subsequently been set aside for an Innovation Fund to accelerate and supplement the DREAMS package.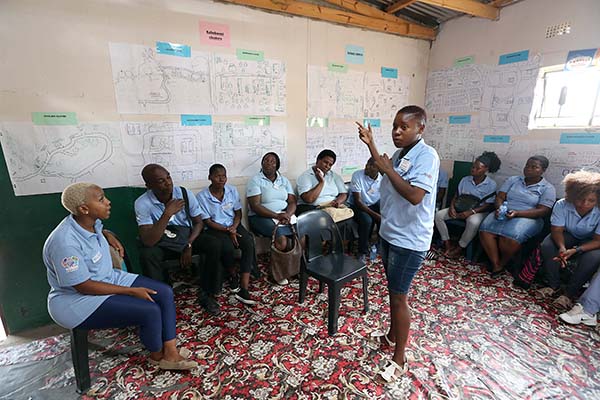 Photo credit: Thulisile Dlamini
South Africa is one of 10 countries to receive funding under the DREAMS program and was the location of the global launch of the initiative last November. It has a major incentive to make rapid progress with the biennial International AIDS Conference in Durban this July providing a perfect platform to showcase early advances. South Africa is receiving $67 million of DREAMS money that will be used for targeted interventions in sub-units of five health districts with a high HIV burden. In February, a team of researchers from CSIS and senior staff from the U.S. Congress travelled to South Africa to assess progress in the country's fight against HIV, and to take a first look at how the DREAMS initiative is contributing to the overall effort.
It is early days, with programs just getting under way and newly appointed DREAMS coordinators, hired by the South African National AIDS Commission (SANAC), settling into position.  DREAMS activities will take place in select sub-districts of just five health districts; three in KwaZulu Natal and two in Gauteng.  Two of the districts—Johannesburg and eThekwini (Durban)—each have more than half a million people living with HIV (PLHIV).  DREAMS programming in all five districts will target four specific groups of people: girls aged 10-19; orphans and vulnerable children in the same age group; young women aged 19-24, including sex workers; and their male sexual partners.  A combination of activities will be undertaken.  For young women, these will include scaled up condom distribution, HIV testing and counselling; a wider choice of family planning options; pre-exposure prophylaxis (PrEP); support for victims of violence; and efforts to help women build up their social networks through mentors, peer groups, and civic engagement.  A number of activities will aim to strengthen family cohesion, keep girls in school, and improve school-based HIV education services.  Finally, outreach will target male sexual partners through HIV testing, treatment, and voluntary medical male circumcision for uninfected men.
It will be several months at least before preliminary efforts can be made to judge the impact of DREAMS programs. But in terms of strategic direction, donor coordination, and commitment, the early signs are promising.  One of the most encouraging aspects of the strategy is that DREAMS has been able to attract complementary funding and support from other donors.  In April, the Global Fund to Fight AIDS, Tuberculosis, and Malaria will begin a new three year grant cycle that will prioritize prevention interventions among key populations, including young women and girls.  It is replicating the DREAMS model in an additional 10 health districts and will put $62 million into the effort.  The German government has agreed to fund complementary activities in one additional district.  Most important of all, the South African government is on board with the DREAMS approach and is enthusiastic about its potential. A team from SANAC worked with officials from the Department of Health to craft the strategy. By coordinating activities in this way, a mechanism is already in place to scale up innovations that prove to be effective.
The highly targeted nature of the DREAMS initiative makes it possible to test and more easily measure effectiveness.
The highly targeted nature of the DREAMS initiative makes it possible to test and more easily measure effectiveness.  Additional support will be layered on top of DREAMS pilots in order to inform understanding of what combination of interventions works best, where. In South Africa's DREAMS sub-districts, PEPFAR is planning to roll out Universal Test and Treat (UTT) programs.  Again, this is being done in consultation with the South African government, which is considering a national roll out of UTT from the start of April.
The DREAMS agenda is supported by evidence developed through prior and ongoing research studies, including work from the Wits Reproductive Health and HIV Institute (RHI) in Johannesburg, which the CSIS team visited.  The Wits RHI Adolescent Innovations Project is an ongoing five-year USAID/PEPFAR funded grant to assess interventions for HIV prevention, treatment, and linkage to care for adolescents.  Its many publications have examined adolescent pregnancy, intimate partner violence among female adolescents, urban adolescent health-seeking behavior, and social support for vulnerable adolescents, among other topics.
One of the most interesting approaches that DREAMS will be trialing is the use of cash transfers as an incentive to keep girls in school.  Some studies suggest that the longer a girl stays in the education system, the less likely she will be to engage in risky sexual behavior that potentially exposes her to HIV.[2]  The evidence is not conclusive, however. During our trip, we were briefed about a study from the rural province of Mpumalanga, carried out by the Wits Rural Public Health and Health Transitions Unit.  A randomized, controlled study of 2,500 girls aged 13-20 in the rural community of Agincourt found that conditional transfers reduced risky sexual behavior but did not have a significant impact on HIV infection rates.[3]  By piloting cash transfers in additional sub-districts, DREAMS will be well-placed to add to our knowledge of this poorly-understood link.
The key to unlocking the epidemic of HIV infections among young women in South Africa involves shifting social norms and human behavior.
In terms of the challenges facing the DREAMS initiative in South Africa, perhaps the main one will be attaining the goals it has set for itself.  DREAMS is nothing if not ambitious. In the high prevalence HIV "hotspots" where it is operating, it has committed to reducing HIV infections by 40 percent among adolescent girls and young women by the end of 2017.  These are particularly demanding targets in the context of South Africa's generalized HIV epidemic.  In order to reach them, DREAMS has set itself a series of challenging tasks that include distributing condoms to 320,000 girls and young women; sustaining 3,000 women on PrEP; providing HIV and violence prevention services to 327,000 school pupils; and giving cash transfers to nearly 50,000 school girls.[4]  Achieving these lofty targets will require relentless effort and seamless coordination from the multiple DREAMS partners, as well as strong direction from the South African government.
A second major challenge is around metrics.  The nature of prevention activities make them hard to measure.  Clinic-based HIV testing alone is not sufficient. One priority area will be to come up with innovative new metrics on HIV prevention.  DREAMS will produce a rich haul of data but interpreting that data and ensuring that it informs strategic direction will be a more difficult challenge to overcome.
Third, the South African government could help advance the DREAMS agenda by addressing some of its health policy gaps.  One priority is to finalize the much-discussed but yet to be introduced strategy for dealing with HIV in schools, including addressing the fraught question of whether condoms should be distributed to children.  Another priority is to issue guidance on the use of PrEP.  Last December, South Africa's Medicines Control Council approved the use of a single daily antiretroviral pill for HIV negative people deemed to be at high-risk of contracting the disease, yet the Department of Health is still to produce guidelines on which groups should receive it and address the question of whether it should be offered to adolescent girls.[5]
Finally, the key to unlocking the epidemic of HIV infections among young women in South Africa involves shifting social norms and human behavior.  The phenomenon of intergenerational sex between older men and younger women in South Africa reflects deep rooted social, gender, legal, and economic inequities that cannot be overcome overnight.  The DREAMS initiative has an important part to play in shedding light on the overlapping social problems that explain these inequalities and piloting solutions to them but it may struggle to make a major dent in infection rates within its initial two year timeframe.
---
Footnotes
[1] UNAIDS 2013[2] For example, a trial in Malawi found that girls who received cash transfers for 18 months had a 64 percent lower HIV prevalence than girls who did not.  For more details, see Janet Fleischman and Katherine Peck, Addressing HIV Risk in Adolescent Girls and Young Women, CSIS, April 2015, 10 http://csis.org/files/publication/150410_Fleischman_HIVAdolescentGirls_Web.pdf.
[3] Agincourt MRC/Wits Rural Public Health and Health Transitions Research Unit, Cash Transfers Conditional on Schooling Does Not Prevent HIV Infection Among Young South African Women, July 21, 2015 http://www.agincourt.co.za/index.php/2015/07/hptn068-swa-koteka-press-release/
[4] South Africa DREAMS Overview http://www.pepfar.gov/documents/organization/253958.pdf.
[5] Ashleigh Furlong, South Africa: Will Clinics Provide Medicines to Prevent HIV Transmission?  GroundUp, March 9, 2016 http://allafrica.com/stories/201603090795.html.